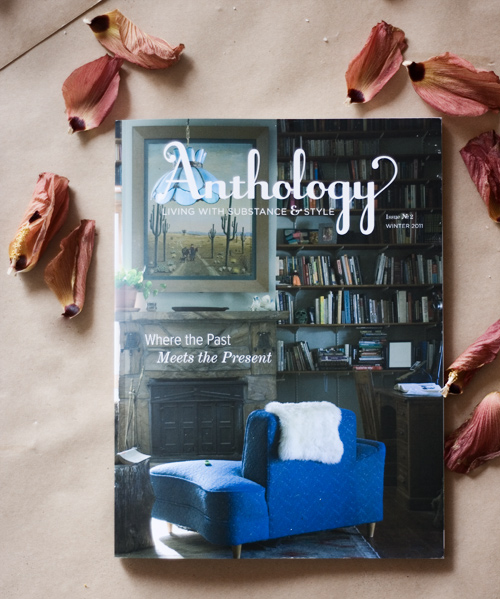 Anthology, issue no. 2, "where the Past Meets the Present"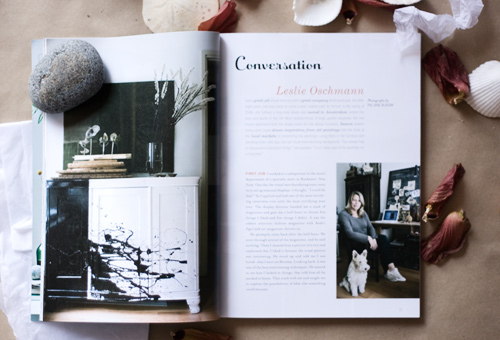 Conversation, with Leslie Oschmann from Swarm…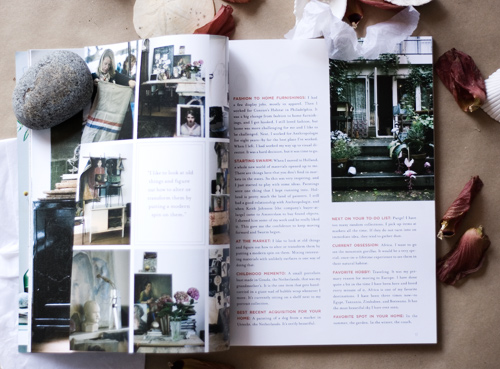 …Conversation, page 2…
A few months ago I had the good fortune of being asked to photograph my dear friend Leslie's home in Amsterdam for the newest issue of Anthology. For those who don't know, Anthology is the new kid on the block in the shelter and lifestyle print magazine world. The first issue launched at the end of last year with a whopping online ovation, and a great marketing campaign announcing that 'print is not dead'…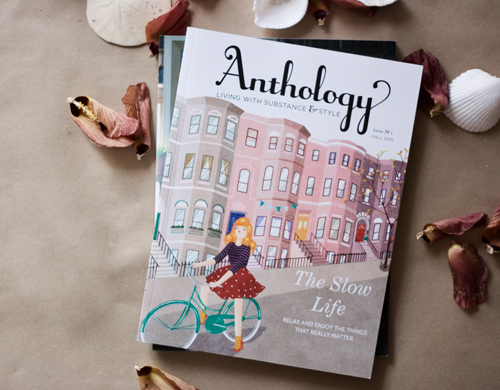 the cover for the first issue of Anthology, "The Slow Life"
The other day, I received a copy each of the first two issues and I'm rapt to report that this magazine deserves all the applause it has received since its inception.  Founded by Meg Mateo Ilasco (author of the wonderful Craft, Inc & Crafting a Meaningful Home books) and the ever-lovely Anh-Minh Le, Anthology cleverly fills the gap that has been so needed in this market – a lifestyle mag about real people in real homes, sharing their lives and inspiration in an open,  pared back, intelligent, and untainted-by-heavy-advertising way. The layouts are beautiful, crisp and simple, the paper quality and texture is lovely, the "shopkeeper's picks" are thoughtful & unique, and the home stories are modern, content-rich & refreshing. There are some really interesting 'in every issue' pieces, like the 'making the magazine' spread which, in issue no. 2 features illustrations depicting quirky behind the scenes tidbits  (story locations, sightings during the production, 'drinks consumed on set').  Also in issue no. 2, "Where the Past meets the Present", there is a knock out visual travelogue by Jen Siska who uses both high and low-fi cameras to showcase Palm Springs. The results are stunning…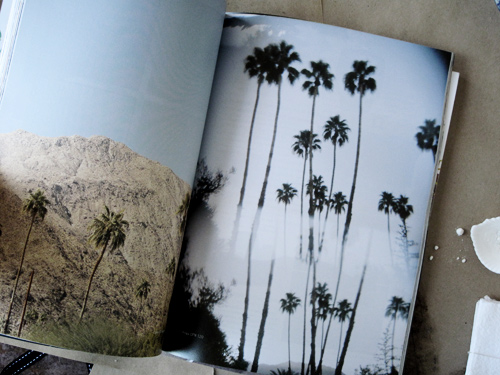 a sneak peek at jen siska's palm springs visual travelogue
A big congratulations to Meg and Anh-Minh for creating a beautiful publication. It's an honour to be a contributor, here's cheers to print being alive and kicking!
xx
PS yes that was my first exclamation mark in weeks. (!!)
PPS preview both issues online right here. You can order Anthology online, and for a worldwide stockists list, click here.