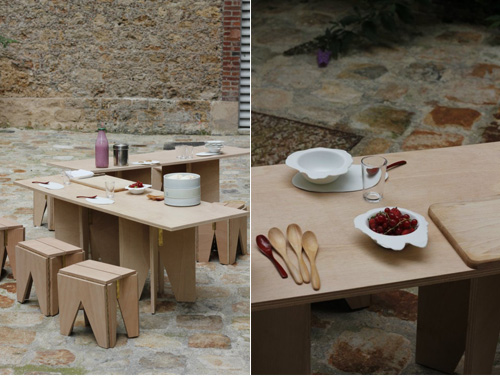 Just wanted to pop my head into the (blog)house for a moment to let you know that designer Anne Xiradakis has organised another fab café éphémère in the 19th arrondisment of Paris this weekend, along with furniture designer Pierre Hourquet, and chef Delphine Zampetti. The free petite dégustation includes sablé au beurre salé, boisson aux fruits rouges,  and langue de chat au caramel all served on Anne's new collection called "variables".
Café éphémère 16 will be open today and tomorrow from 4-6pm at 104, cour anglaise: 104 rue d'Aubervillers, and on monday from 4-6pm at the jardin CPCU : 2, rue de la marne. To make a reservation call Anne on 06 63 06 83 11.
If you'd like to know more about the concept of café éphémère, click here.
………………………………………………………………
Have a wonderful weekend mes amis.
xx