This past month, I've been glued to BBC 2 every Wednesday night, blissfully absorbed in Alys Fowler's world as shown in The Edible Garden. Each episode, Alys demonstrates through polyculture how she grows various fruit, vegetables and edible flowers in her small city back garden, with the aim to not only avoid shop-bought fruit and vegetables so she and her husband can live off their home-grown produce but also create a beautiful, inspiring garden. The misfortunes and mistakes are not edited, and her style is perfectly imperfect. In tonight's episode, she planted strawberries, raspberries and blueberries; picked apples to make delicious apple rings; concocted a lip-smacking fruit infused vodka with friends; made gorgeous hapa-zome fabric lid covers for jam pots; and introduced a friend who lives in Bristol and forages for plums and berries in her local environment. Last week she focused on root vegetables, the week before, salads – each episode packed with extras.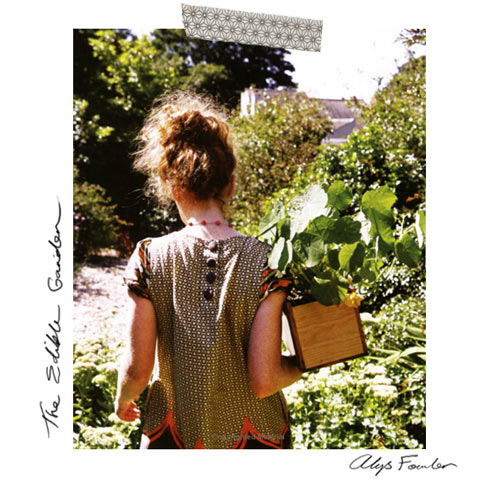 While I have no soil patches on-shore or on-deck of my little boat home, I'm completely re-inspired to pot up some edibles again. I love walking passed the on-shore gardens belonging to the houseboats (also love spotting the adorable newcomers) along the Amstel, they never cease to inspire me as most of them are filled with wild flowers, tulips and untamed bushes. There is one that even has chickens.
Also, I've been reading up a lot lately on suburban foraging (a couple of episodes ago, Alys made dandelion fritters from foraged dandelions and I'd love to try it!) but really don't know enough about northern hemisphere wild foods, nor the protocol for foraging here in The Netherlands. Plus, I have no idea where to go. I would love to have the courage to forage but I think it would take a series of workshops and guided tours before I got out there myself.
Anyway, Alys Fowler– wonderfully inspiring, just as much as Ray. Even though you can't replay the episodes on bbc iplayer unless you're in the UK, it's worth reading the episode details and even better, buy Alys' book. I haven't got it myself but I'm sure it's awesome.
xx
PS I just remembered this photo of me in the garden in vancouver island, rather fitting for this post…