You may recall that not so long ago I wrote about my love for making photograms during my uni days (click here to read the original post which features the beautiful photographic work of rowena dugdale). For those who don't know, a photogram is making a print in a photo lab without using a camera.
Rowena reminded me in a recent comment that I said I'd try to find an example of one of my photograms for you when I went back to sydney. I happened to be rifling through one of my visual diaries the other day and found this, below. It is one of my original photograms which I made by exposing some text that was written on a sheet of acetate, tiny pebbles, and piece of sheer fabric over a self-portrait. I remember feeling some sense of exhilaration over the finished product.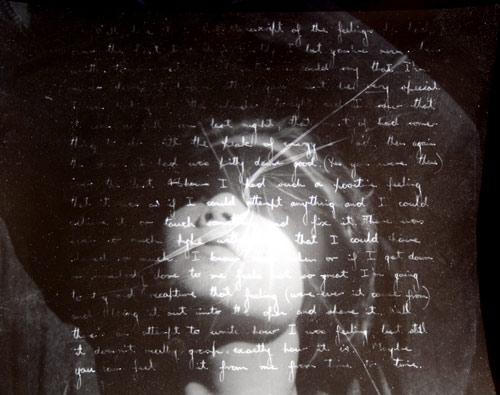 photogram with print, untitled, Pia Jane Bijkerk 1996.
I love the tactility of making photograms, it's a rather marvelous process and if you are a photo-making-enthusiast, I highly recommend the developing adventure. I've now realised how much my love for making photograms has influenced my work today – even though the digital world we now live in has mostly eliminated the hand touched aspect of photography, the physical contact I have with the image from beginning to end is still ever-present.
Incidentally, I found this feedback written in my diary from one of my university lecturers. Love the second sentence…