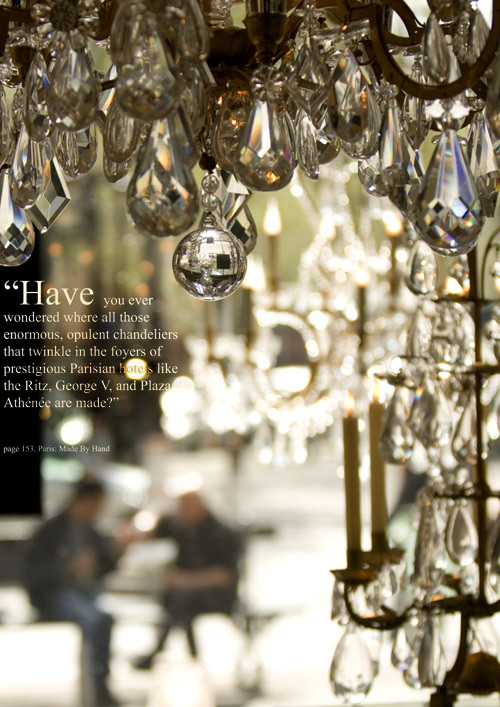 Here is another poster which you'll find hanging in the window alongside my cardboard eiffel tower at WHSmith bookstore in Paris. I like the two guys outside in the background chatting, Parisian style, in intense conversation while inside there are these fabulous, opulent handcrafted chandeliers.Turn to page 153 in the book for the atelier/boutique details.
………………………………………………………………………….
I've received so many wonderful emails from very happy (blog)house readers lately. Thank you! I wish I was able to manage my time better so I can reply to each and every one. If you have not received a reply from me then please know that my heart has replied to you, it's my body that is slow on the mark. I am busy on lots of incredible projects that I am dying to tell you all about. Next week, I might even be able to talk about one in particular, so do make sure you come and visit then.
In the meantime, (blog)house reader & Aussie expat living in Sweden Sam sent me a rather wonderful report about her recent trip to Paris using Paris: Made By Hand as her guide! Sam has a fab blog and she wrote a number of posts describing her experiences and which shops she visited. Her reports are so terrific, I just had to share them with you. So, please go and visit sam's notebook and read about her Paris: Made By Hand wanders.
Please click here, here, here, and here to read Sam's posts. Thank you Sam!
xx
PS I've decided to call it an early night so I can continue reading Treasure Island. I'm hooked, it's so goddamngood. That means I will be saving the rest of my posts for tomorrow. À bientot!