I'm a big fan of hand-me-downs, vintage, recycled, and op shop fashion finds. So I was thrilled to read on katie crackernut's blog that she was inviting fellow bloggers to write about their favourite op shop/second hand finds, or give treasure hunting tips to their readers, as part of her own op shop challenge…

illustration courtesy of katie crackernuts.
You see, ms katie crackernuts is on a mission – a little while ago she joined The News Limited 1degree op shop challenge which means she wore thrifted and recycled fashion to work for two weeks. It was part of a workplace initiative to inspire people to cut their carbon footprint and kate became a finalist and is now in the top ten! Being the ambitious gal that she is, ms crackernuts is keen to win this competition, and I want her to win too. So, I'm joining in the fun by showing you one of my all-time favourite second hand finds which I came across while living in Paris…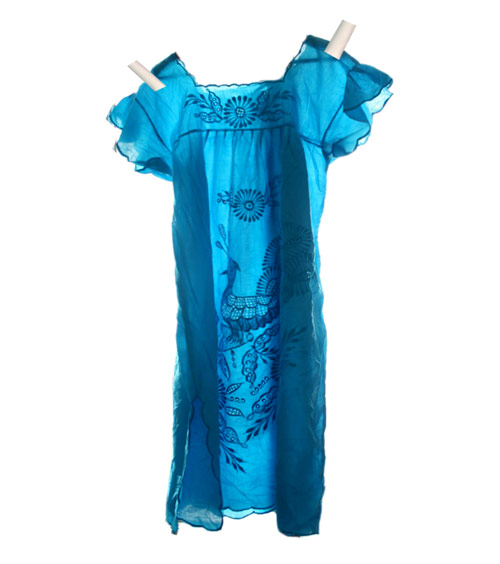 I call it my peacock dress, and it cost me a whole 10 euro. It is 100% cotton, sans a designer label, and is the most gorgeous blue I've ever seen. I wear it with a simple fat belt and flip flops in summer. Just looking at it brightens my day.
I, like Kate, am rather obsessed with finding fabulous op shop garments and wherever I am in the world, I go into vintage boutiques I come across, or open markets in search of something special. I also love reworking a garment, rethinking how it can be worn and getting more life out of it. Its fun, inspiring, challenging, and good for the environment and for us.
So if you'd like to join in the fun and help kate with her op shop challenge, I invite you my dear fellow bloggers, to write a post this week about one of your favourite second hand finds, reveal some of your secret second hand sources in your local area, or offer a treasure hunting tip or two. Be sure to link back to katie crackernuts 1degree op shop challenge in your post.
Thank you for the inspiration kate!
xx