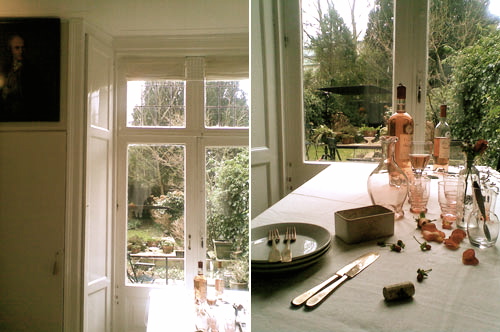 …so, as I mentioned last week, here are a few behind the scenes from my last shoot with maria magazine. I only had my mobile phone with me to take photos with at the time, and I was very sick with the flu you might recall, so I could only capture a few shots on this particular occassion, but I hope you appreciate them none the less.
Above you see some photos of the table while I was getting it ready. I was standing back, visualizing what colours I wanted to be prominent. I loved the colour of the rosé we were featuring (more about that in a moment), so I made that the prominent colour for the table setting with white and cream as the backdrop, and a splash of green for Spring! A sprinkle of rose petals here, and an antique knife and fork there.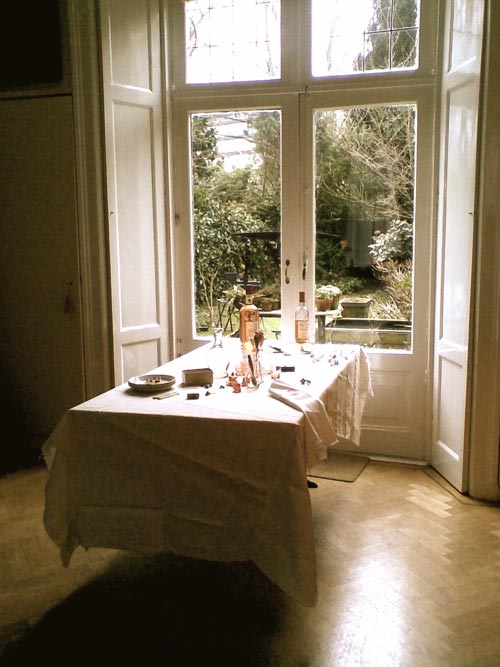 Can you see the photographic equipment outside the window, ready for our outdoor shots? Below are some behind the scenes photos of the outdoor table where we shot the savoury tarts with smoked chicken, dill and goat cheese (recipe here)…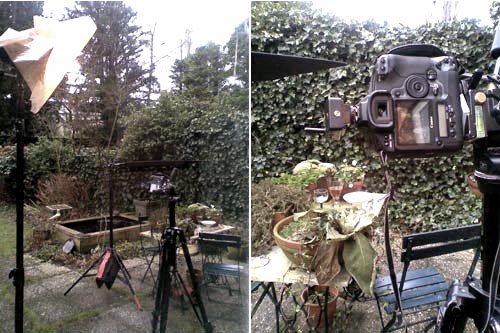 …as you can see Jeroen is 'making Spring' with his light set up! clever thing he is. meanwhile, I manage to find some Spring-like flowers in the garden store the day before, so I was busy picking flowers off and 'sticking' them on not so flowery plants on the table. Just another one of my stylist's tricks!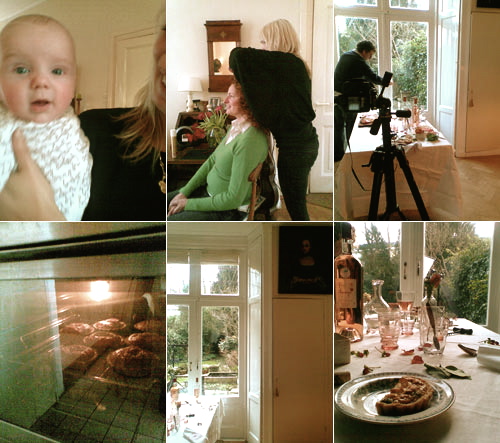 …we had a baby on set! who doesn't love a baby on set? unfortunately I was too sick to go near baby Yannick, otherwise i would have smothered him in cuddles and kisses. So hair and makeup stylist Mascha, Yvette and her mum did a great job at making up for my lack of affection.
In the second photo Mascha is doing Fleur's (incredible red) hair. Fleur (the mother of baby Yannick) is the star of our shoot – it is her wine we featured! She actually has an award-winning wine named after her, how awesome is that? Fleur's family owns a beautiful winery called Domaine de L'Amaurigue in France. Yvette came up with the brilliant idea to shoot a Spring Ladies Lunch based around Fleur's wine, a delicious rosé, perfect for Spring! Yes of course I tasted the wine, and it is indeed delicious.
The third photo is behind the camera, the fourth is the tarts in the oven, fifth and six are the table setting again. Below is a sneaky shot I took of Yvette in the kitchen while I was standing outside freezing my buns off! I rather like this artsy shot…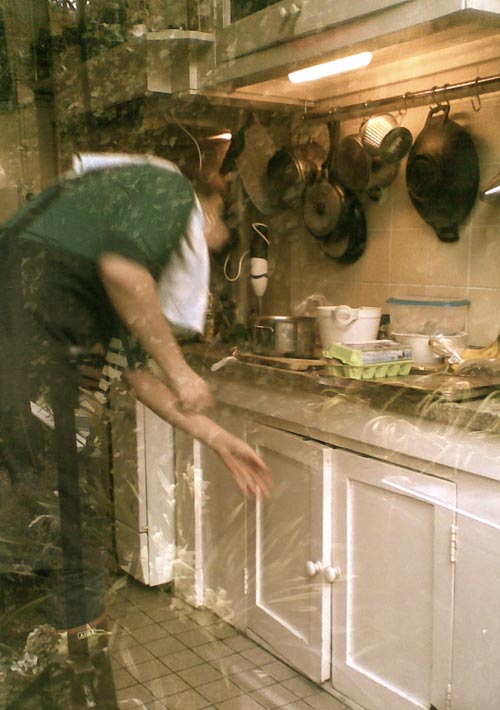 I hope you've like these behind the scenes photos! Click here to see the full magazine story. And here if you'd like to see more of my behind the scenes photos.
Oh i can't believe it's already Friday! Where did the week go?