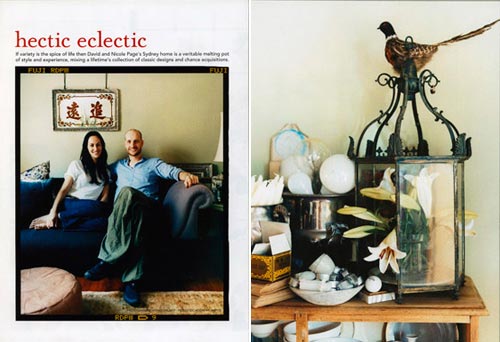 I simply must start my absolute favourite interior magazine line up with Vogue Living. Yes, perhaps it's the Aussie in me but still, after years of perusing plenty of bookstore shelves around the world, no matter where I happen to be, it is a copy of Vogue Living that I'm carrying out the door, eager to sit down with a cup of tea (or verre de vin, depending on the time of day) and flip through the pages to take a peek inside some of the world's most inspiring homes.
Pulling one story out of Vogue Living for this series is quite difficult… The publication recently celebrated it's 40th birthday!! But having said that, one story in particular has always stood out in my mind so this is the one I will share with you today. This is a spread that I think was featured in the September 2005 issue (but don't quote me on that!). It is the home of David and Nicole Page, founders of the very cool davidmetnicole. It was shot by Jonny Valiant, and I'm quite sure it was written and produced by Andrea Campos. Enjoy…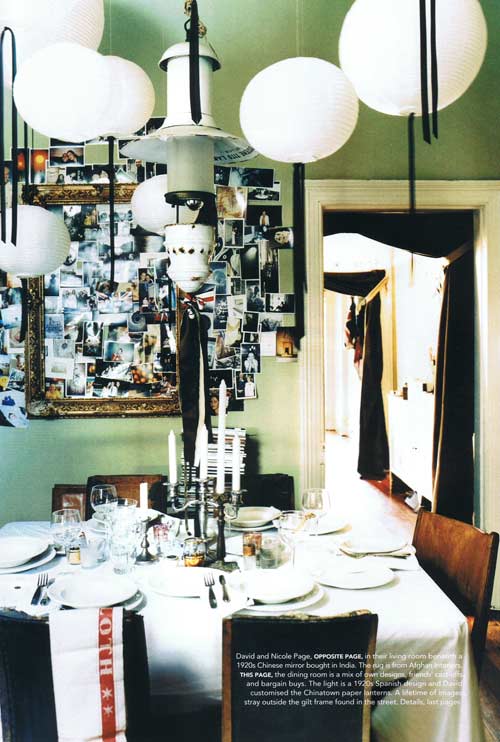 …I love that dining room! So simple, so eclectic, and so authentic…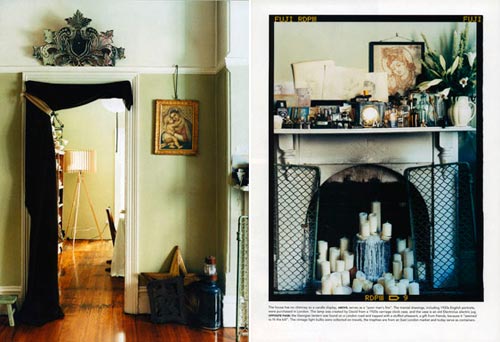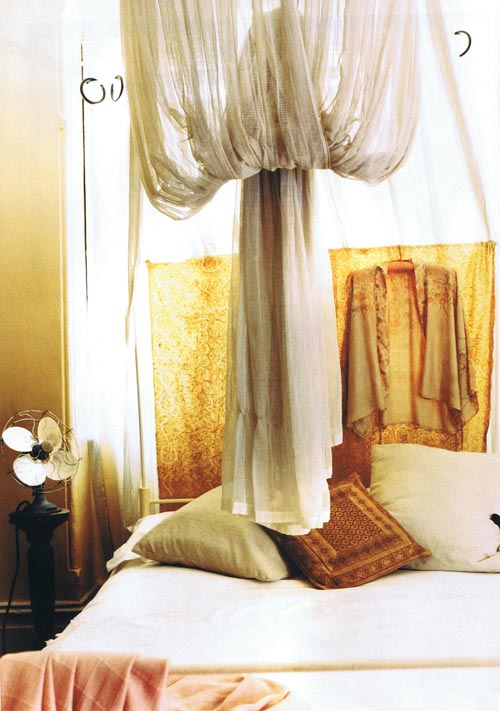 Isn't that a beautiful home? I love its rawness, and realness. It's sophisticated but completely loose, honest and stylish. And there are so many style ideas in there- the japanese paper lanterns combined with long strands of black velvet ribbon; the empty frame overflowing with family snaps; the pinned velvet curtains in the doorways; the waxy fireplace; and the beautiful bed.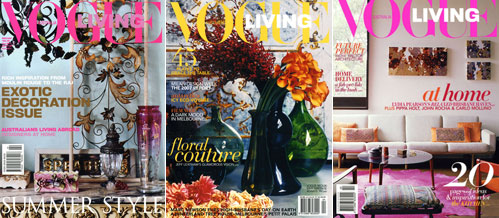 above cover shots by Petrina Tinslay
Editor David Clark has a discerning eye for inspiring interiors. The chosen feature stories are always a reflection of the times without being stuck in trends or style phases, nor is the publication always focused on homes with designer labels (I love that!). But to me what is most apparent, is that each issue is always one step ahead of the trends, and that's definitely one of the reasons why I find myself drawn to it time and time again.
So! If you are not already an avid reader of Vogue Living, it's never too late to become one…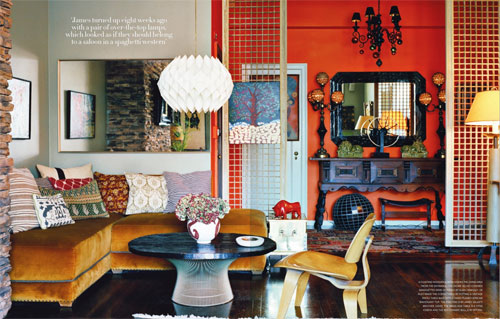 + click here to take a peak inside the latest issue of Vogue Living, featuring the above home, filled with found treasures.
+ click here to buy a subscription.
xx
PS Man, I'm thinking I missed my calling… should I be in sales or what?!! 😉
PPS Disclaimer: I'm not employed by Vogue Living, in case you thought my sales pitch was that good.