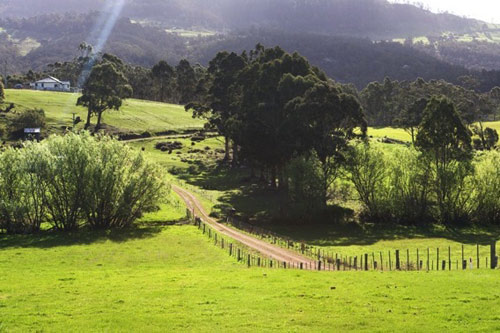 …is a perfectly renovated 19th century schoolhouse, surrounded by an expansive vegetable and herb garden, orchard, and berry patch. There are two Jersey cows, Wessex saddleback pigs, Barnevelder chickens and a flock of geese. Welcome to The Agrarian Kitchen in Lachlan, Tasmania…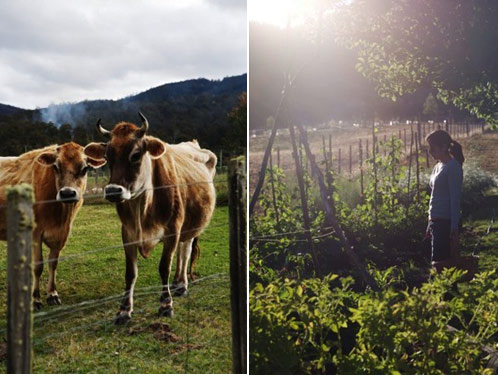 Run by Rodney Dunn, former food editor of Gourmet Traveller and his wife Séverine, The Agrarian Kitchen is a very unique cooking school. Their aim is "to create a place where people can rediscover the simple pleasures of gathering and cooking with produce as close to its source as possible." Sustainable farming practices are at the core of the Agrarian Kitchen philosophy…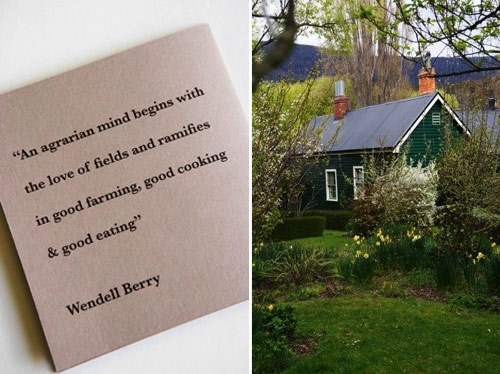 So how did I come to know about this hidden gem? Well a few years ago, just before I moved to Paris, I used to work with Rodney as a regular contributor to Gourmet Traveller magazine. During one of our shoots he told me about he and his wife's dream to create a sustainable farm and cooking school in Tasmania. I was intrigued and so inspired. Since this is a bit of a dream of mine, I had a hundred and one questions every time we worked together. Each time he would tell me about his new learning experiences in sustainability, and his friend and photographer Luke, would tell me about their latest adventures in Tasmania. How fabulous I thought. If Rodney and Séverine can do this, it would one of the most inspiring cooking experiences ever…
………………………………………………………………………………………………………….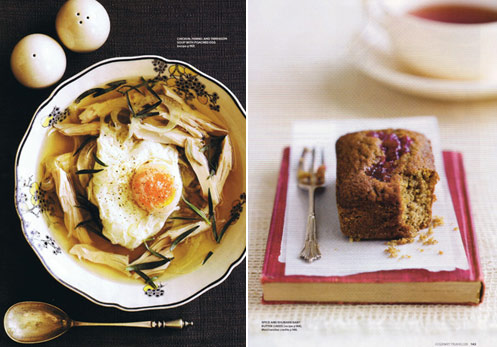 (these are 2 of my favourite shoots with Rodney and his delish recipes at Gourmet Traveller. Featured on the left is Rodney's chicken, fennel and tarragon soup with poached egg and on the right is his Baby Spice and Rhubarb Butter Cakes, click here for the recipe)
………………………………………………………………………………………………………….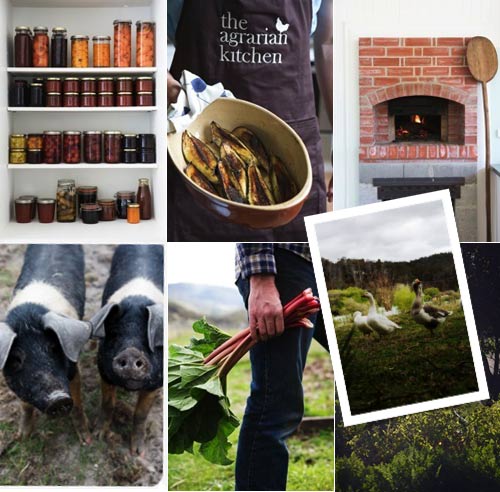 Fast forward to today: Rodney and Séverine have successfully launched their cooking school. Among their first guests was Tetsuya Wakuda who enjoyed Rodney's afternoon tea of freshly pulled French breakfast and plum purple radishes with aioli, chicken and wild fennel tramezzini and chocolate friands with dulce de leche.
The Agrarian cooking classes are now in full swing, with such seasonal masterclasses in artisanal subjects like making cheese and butter, preserving, baking bread, making pasta, charcuterie, ice-cream and confectionery. There are a maximum of 8 guests per class, and classes can be tailored to suit individual interests.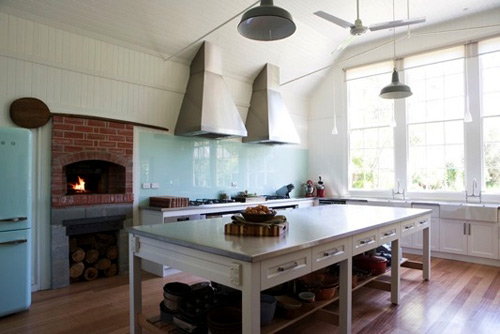 (how gorgeous is that wood-fired oven? It is designed by the late Alan Scott who was a world renowned oven designer and builder – his ovens are used by the world's best artisan bakers)
A day at The Agrarian Kitchen sounds like heaven to me: first you pull on a pair of gumboots and begin foraging in the garden for the ripest fruit and vegetables. You return to the kitchen to prepare and cook a seasonal feast under Rodney's guidance, then lunch with the other guests while enjoying premium Tasmanian wines and artisanal ales…

tea in the garden, anyone?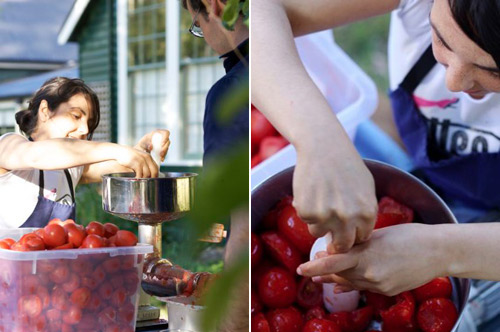 …pictured above is the tomato gluttony masterclass, and below is Rodney (centre) in action in the kitchen during one of the classes…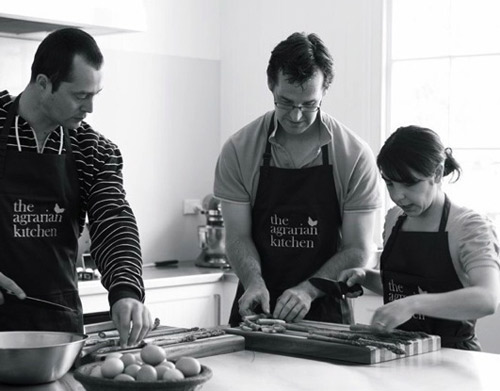 French Boy and I are super keen to participate in a class or two next time we are back in Australia. Having worked with Rodney I can attest to him being a very thorough and patient foodie (the perfect ingredients to be a teacher!), and his knowledge on food is immense. So congratulations Rod and Sev, enjoy your new life, and I look forward to seeing you both and enjoying all you have to share with us.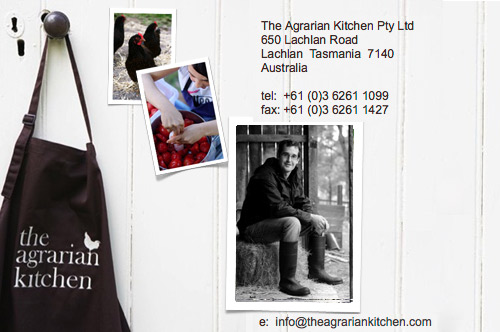 ………………………………………………………………………………………………………….
All images are taken by the fabulous Luke Burgess and Amanda McLaughlin.
Thanks to Rodney and Séverine for sending the images.
For more info about the Agrarian Kitchen visit the website here. Be sure to browse it thoroughly as it is extensive and filled with great information about the surroundings and favourite Tassie places.
And to join the Agrarian Kitchen mailing list for regular updates on classes and events, please click here.
xx