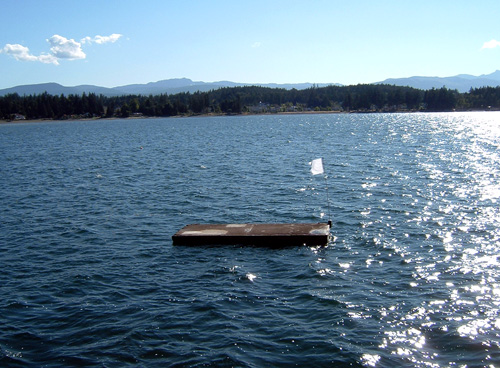 personal diary entry, august 7, 2006…
"I have the top of a tall fir tree in my line of sight outside this window, oh how I would love to see a beautiful bald head eagle fly to a branch right now. I would watch that eagle until he flew away.
The tide is out and the sludgy green-gray sand is stretched wide along the bay, sand dollars scattered across the slimy surface. Its a picture perfect view of Treasure Island, rocking in the wind, with the flag that I made already faded to white. I love its new weathered look.
This afternoon I will take a walk along the rocky shoreline. I will find a smooth rock and will lay myself down and look up. And close my eyes. I will take in this shoreline with all my senses as it has become so familiar to me, this ocean that I know so well from it's other coastline. Being here is like being inside the mirror, looking back and waving to myself from behind the bluish glass. On the other side it is a different palette of blues, warm shades of blues. But here, its grey shades of blue: the dark blue-grey mountains meet the deep black-blue ocean – how is it that you now speak to me like I belong. It is a beautiful feeling, to feel you accepting my presence. I would like to get to know you better than I have over the past years. I'd like to see how it feels to call you home. What an opportunity that would be."
But on that walk, and on that rock, I sensed something. I sensed that it was the last time I would walk there. The last time I would be invited to visit that special place with those special people who made me feel like I was home. So I lingered a little longer on that rock. I walked back a little slower. And I sensed my heart would ache. For a long time to come.
…………………………………..
The soundtrack to this post is here.