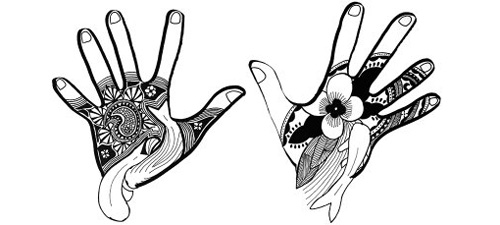 While last Friday I was smacked to the ground by a taxi, this Friday my hands have been drawn by the sensational Esti! What a wonderful day it is!! Yes these are my hands, enhanced and decorated by Esti. I am in awe of her drawings, and I feel pretty special that she has interpreted my hands in this way – look at the swimming fish in the detail. Wow.
I must admit, I was pretty reluctant to send an outline of my hands as when I drew them, I felt like I was giving away a piece of my soul. I am super conscious of my hands, for so many reasons. One being that my fingers are quite long and even though my mother always said how wonderful that was, I always felt like a bit of a freak. But even if I did give a piece of my soul away to Esti, she just gave it right back to me, and that piece is more beautiful and unique now than it ever was.
Click here to read and view Esti's full post.
Thank you Esti, you have totally made my day.
…………………………………………..
Well folks, I am about to jump on my bike again for the first time since I had the accident. I am pretty scared, to be truthful. I didn't think it had affected me so much but apparently it has. But today there is no more procrastinating as I have so much work to do, I've sort of piled it all up into one day, the last day of the week, and now I have to race around and pick up samples and props for next weeks shoots. i feel like a bit of a baby, being so reluctant to get on the bike. But here goes nothin'. Wish me luck out there!!