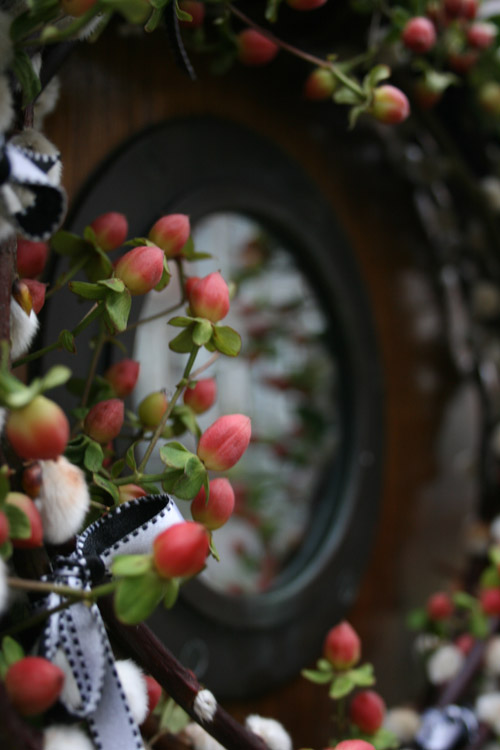 My handmade pussy-willow front door Christmas wreath has just been revamped. I didn't want to take it down even though I made it for Christmas so I decided to revamp it and make it into a 'hurry up spring' wreath. I removed the fairy lights to start with, and then the red velvet ribbon that was holding it to the door frame. The little fluffy white blossoms (not sure I can get away with saying 'pussies' here?!) still look fabulous after a few months although some are starting to brown but I quite like them that way. I 'enhanced' the wreath with the left over berry buds from my birthday flower arrangement and also added a lovely brown velvet ribbon to replace the red one. I am rather pleased with it, it looks quite striking but what do you think? I have decided to just keep adding to it once things die off – so instead of replacing or removing altogether, I will just add more to it over the coming months and see what transpires. I shall keep you informed on how it looks if you like. For further details on how it was made, see below.
Here is the full view of it: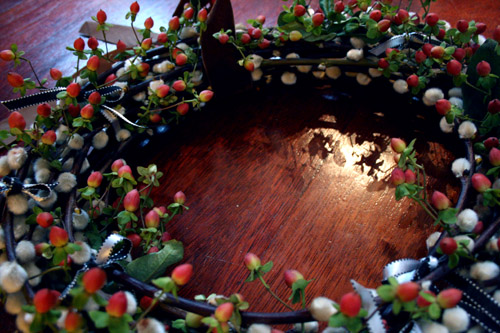 To see what it looked like for christmas, click here (you will need to scroll down to the bottom of that post).
PS. I just added the direct 'my heart wanders' link to the sidebar here for you so you can easily check up on any updates you may have missed on the project. No deadlines have yet been set so don't panic! But I will be setting one very soon. But before then we will check out some more inspiration for the project. And if I can remember how to do this sidebar thing I might add this little wreath too so you can click on it through the coming months and see how it changes. Ooh I'm having so much fun here in the (blog)house!
How to:
I am not the most patient of creators so you can be assured that whatever I make is super easy and quick. First I had a lightshade metal frame lying around so I cut out the middle bits. Then I cut the hard bottom stems of each pussy willow branch and bunched a few together (for time saving only) and curled them around the frame, securing them in two places with thin copper wire. I did this until I was satisfied with the shape and look of the wreath. Then I simply tied little leftover black and white ribbon in bows around some individual branches. I added little berry-like buds to the wreath and hung it up on the door with a brown velvet ribbon. It took approximately an hour to make in total.