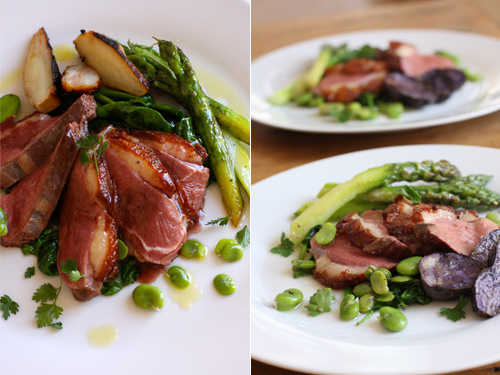 all photos and recipes in this post by Marjorie Taylor from The Cook's Atelier
At The Cook's Atelier, we support the small farmers and artisan producers. Monsieur Vossot is our favorite artisan butcher in Beaune…
Monsieur Vossot's filet de canard recipe:

4 – 6 ounce duck breast halves, skin lightly scored in a crosshatch pattern
1 teaspoon extra-virgin olive oil
sea salt and freshly ground black pepper
With a paper towel, blot any moisture from the duck breasts.  Season both sides of each breast with a pinch of sea salt and a few grinds of black pepper.
Pour some olive oil into two large ovenproof frying pans over medium-low heat.  (If you have only one large pan, cook the duck in 2 batches).  Add the duck skin-side down.  Move the duck breast every few minutes to help them brown evenly.  As the fat is rendered, carefully, remove the excess.  Be sure to move the pan away from the heat when you remove the fat, since if any fat hits the flame, it will cause a flare-up; tilt the pan, remove the fat with a large kitchen spoon, and transfer it to a metal bowl.  Cook the duck for a total of 20 to 25 minutes until the skin is an even rich brown and very crisp.  The internal temperature of the breast should be about 115 degrees F.  Flip each breast and cook on the other side for about 30 seconds.
Put the duck skin-side down in the oven and cook for about 5 minutes.  The internal temperature should be 125 degrees for rosy medium rare.
Put the duck breasts skin-side down on the cooling rack and let rest for 5 to 10 minutes before slicing.  Taste for seasoning and serve on warm plates.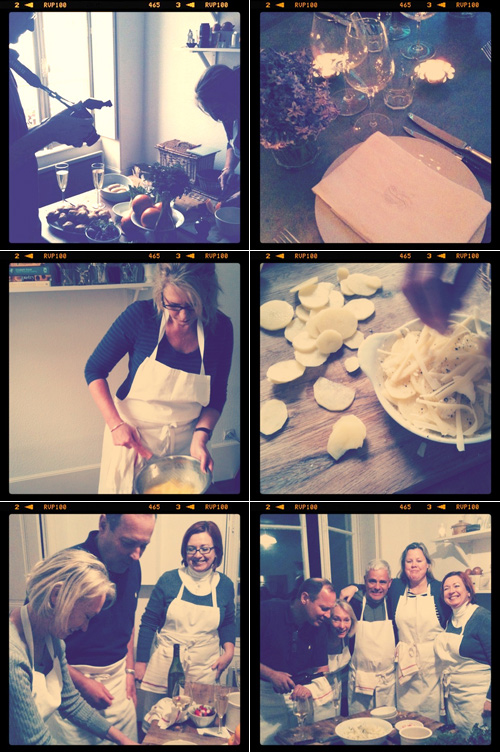 Note from Pia: follow Marjorie's cooking school adventures on instagram & her facebook page – I love her photos!