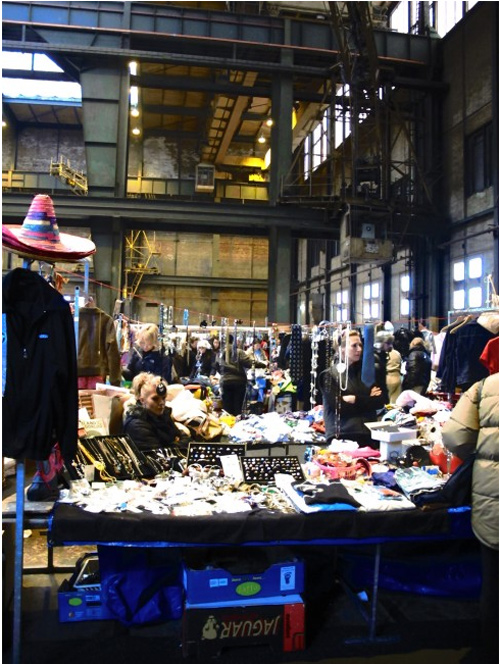 all photos and text by guest blogger rani nugraha…
I've always said that regardless of where I am in the world, I can always feel completely at ease and at home in the middle of a bustling market. In the instance that the market is selling local produce, I am all the more elated, barely able to maintain my composure at the sight of so many textures, the amalgamation of so many scents and the anticipation of tasting everything I can get me little hands on.
I am sure that this sense of belonging in market atmospheres came from my parents. Having just moved to Australia with a young family, they didn't have a lot of money for interior decoration and were generally on a tight budget for day to day living. Coming from Indonesia, they grew up at a time when the commercial western world was only just starting to ease its way into the environment. Instead of frequenting supermarkets, malls and cafes, mothers were still shopping for their groceries at markets, youngsters would grab afternoon snacks and icy drinks from markets after school to gossip and flirt a little, and office workers would nip past markets for a gab with friends over lunch and my parents were no different.
In my home town of Adelaide, my sister and I grew up accompanying my parents on their weekly shopping trips to the Central Markets, the city's largest produce markets, and at the time, one of the few places Asian ingredients and condiments were sold.
Underneath the roof of a building built in 1900 (which is old by Australian standards) stallholders sell a rich variety of local cheese, wines, oils, chocolates, cakes, flowers, meats, poultry, and seafood and there are hundreds of multicultural places to have lunch. (Whenever I am home, it's a must-go spot with my sister, and more often than not, an argument is bound to brew over where we are going to eat, with both of us having our own favourite haunts.)
My parents would pack their two daughters in the back seat, and a folding trolley with wheels in the boot of the car, and off we would trundle. A few hours later, my parents would leave satisfied that another chore was done for the week, and grateful that their two boisterous children were dozing lazily behind them amongst shopping bags crammed with fragrant herbs and sauces, sacks of rice, and baskets of vegetables.
Having travelled more now, I consider markets to be at the forefront of telling talents in design and the arts, the source for most of my homewares, and destination to aim for when in need of feeding my stomach and soul. The Borough and Brick Lane markets; both in London,  Helsinki's Kauppatori market square by the main wharf, the traditional outdoor spice markets in my mother's home village in Indonesia, the stalls underneath the shady canopy of giant Banyan fig trees on the banks of the Brisbane river, the Schanzenviertel festival markets of Hamburg in September, edgy and arty Christmas markets in Berlin, and the tantilising La Boqueria markets in Barcelona are just some of the markets I have sought in my travels, because I don't consider a trip to a city complete until I have been to a market.
There are so many telling and significant cultural symbols apart from tents and stallholders, so many traditions that take place apart from the exchange of money for goods. A visit to a local market is always rich in experiences, and I am of the firm believe that one can not be unhappy in a market in the company of so many interesting characters.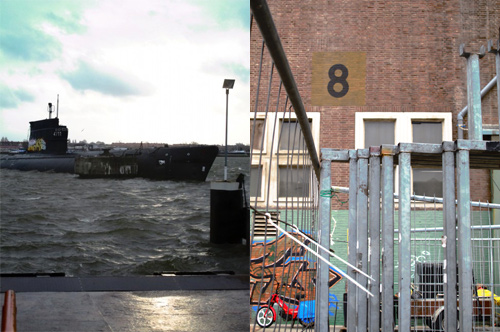 This week, I want to introduce you to a character-loaded and unique location in Amsterdam that hosts a giant flea market once a month. A short ferry ride to the North of the city, the flea markets on NDSM wharf are an occasion where I take visiting friends, and where I also venture to frequently with my best friend to catch up, play dress up or just buy up.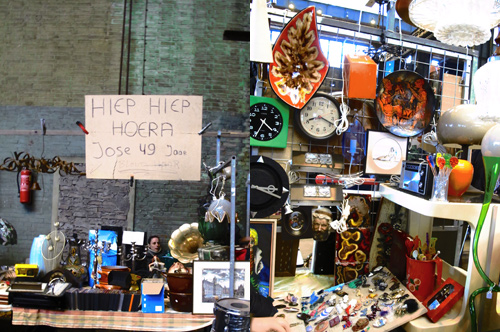 Never one to leave empty handed, sometimes a review of my purchases a few hours later brings a "what was I thinking?" moment, as I look blankly at whatever it is I am handling. But usually I keep whatever crazy item it is because while it might not have any form or function, it's still a souvenir of a great day out.
Read about Ij Hallen markets on the CITIZN project here.
x rani