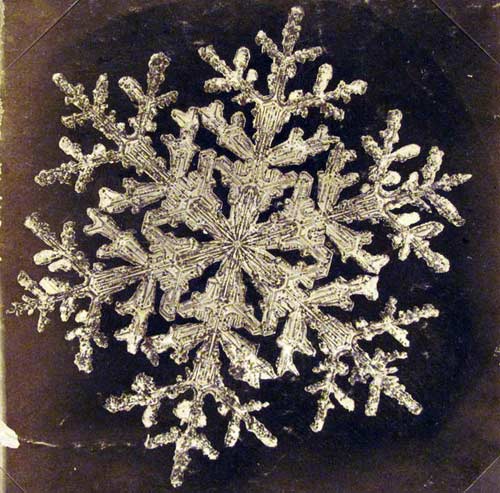 Last week in New York, ten of Wilson A Bentley (a.k.a the snowflake man)'s incredible snow crystal photographs  – which date back to the end of the 19th century  – went on sale at the American Antiques Show. The vintage images are breathtaking…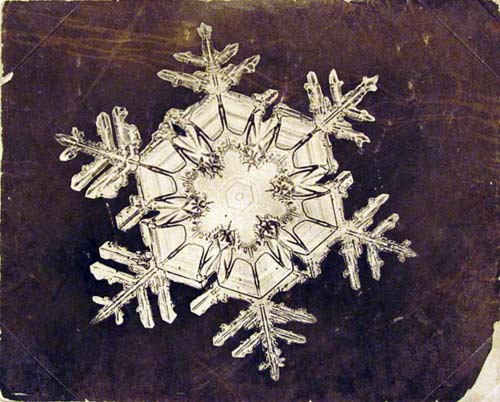 "Every crystal was a masterpiece of design, and no one design was ever repeated. When a snowflake melted, that design was forever lost" said Bentley back in 1925…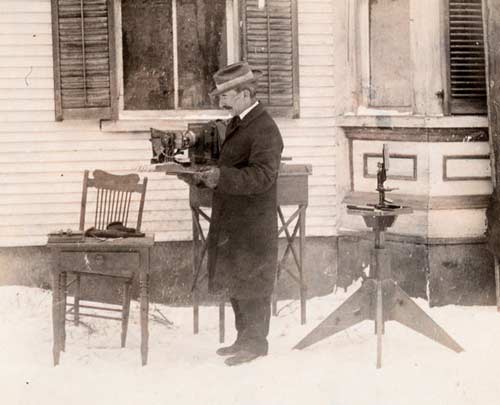 According to an article in The Guardian, Bentley's interest with snow crystals began when he received a microscope for his 15th birthday: "He became spellbound by their beauty, complexity and endless variety" (it's nice to know I'm not the only one obsessed with snow!).
"Bentley started trying to draw the flakes but the snow melted before he could finish. His parents eventually bought him a camera and he spent two years trying to capture images of the tiny, fleeting crystals. He caught falling snowflakes by standing in the doorway with a wooden tray as snowstorms passed over. The tray was painted black so he could see the crystals and transfer them delicately onto a glass slide. To study the snow crystals, Bentley rigged his bellows camera up to the microscope but found he could not reach the controls to bring them into focus. He overcame the problem through the imaginative use of wheels and cord." (as quoted by Ian Sample, science correspondent for The Guardian, Thursday January 21, 2010)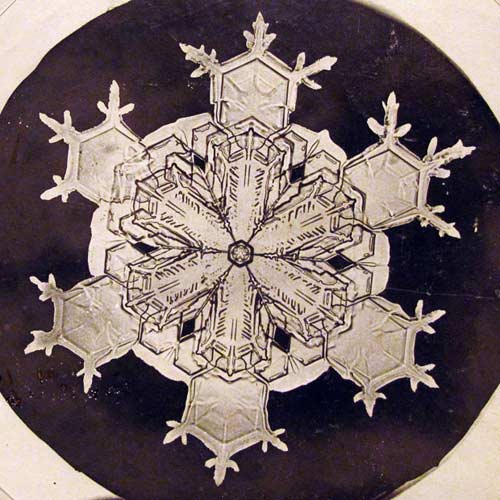 The method of singling out a snowflake to photograph apparently hasn't changed in all that time. "You basically let the crystal fall on something, black or dark-coloured, and then you have to pick it up with a toothpick or brush and put it on a glass slide," says Kenneth Libbrecht, professor of physics and snowflake enthusiast.
Bentley's snowflake photographs have inspired people all over the world for over a hundred years – quilters, photographers, jewelers, and artists of all kinds have been captivated by Bentley's work. I, am now one of them.
……………………………………………
Extra tidbits:
+There is a museum dedicated to Bentley's work at an old mill in his hometown in Vermont. It houses about 2,000 of his vintage images. I must go.
+I first found Bentley's images and story at the ever lovely Pacha Design – please read sammy and glenn's beautiful post(thank you again guys for such inspiration!)
+View and read the full telegraph article – there are 21 images which tell the beautiful story of snowflake bentley's work.