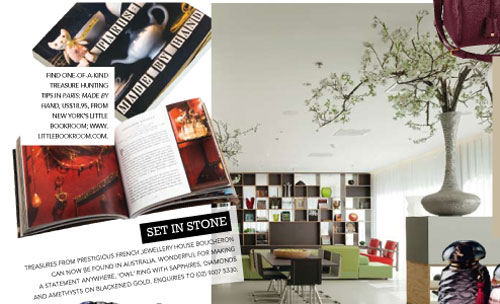 Paris: Made By Hand has had many wonderful reviews and mentions in the press all around the world since it's release last month and I've been so busy that I haven't had a chance to show + tell here in the (blog)house and say thank you. So, I am going to try to include a few in coming weeks and I'm starting with Vogue Living who featured the book on their travel page in this month's issue. I receive a copy of it last week and was thrilled to read the story on Lyn Gardener's Daylesford hideaway, and there is also a great spread on Caroline Quartermaine's London apartment and atelier. I also got a kick out of reading editor David Clark's letter whose last words are "It's time to celebrate the artisan".
Ain't. that. right.
Thanks Vogue Living!
xx
PS I can't wait to tell you about the booksigning on Saturday! It was a great success and I'm still a little giddy from all the attention. My full report soon!