there is lots going on! and I'm barely able to keep up with it myself. So my sincere apologies to all the wonderful bloggers who emailed me requests for a blog package about the book a few weeks ago which I still have not sent to you. You must think I'm terrible! But I hope not, I hope you know that my little legs are running as fast as they can, trying to get everything done on my ever-growing to-do list.
But in lieu of that idea, I recently spotted that Stacy over at La Boudoir had added a little Paris: Made By Hand book button on her blog which is such a wonderful idea. Thank you Stacy! So I thought I'd pass this idea onto each of you as perhaps you feel so inclined to do the same. Here is the button…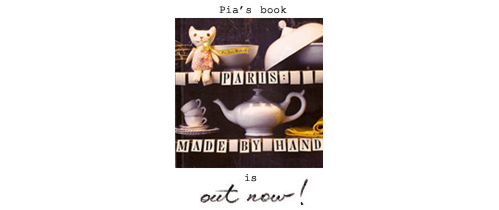 …which you can copy and paste straight from here, and then you can link it to either my blog page about the book, The Little Bookroom webpage, the random house australia webpage, or amazon.
I also want to thank you for all your support – the book has had such a fabulous response, and I have no doubt it's because of each of you. Right now I want to give you a group hug. So huddle round, and I'll stretch my arms out as far and wide as I can.
……………………………………………….
next up: who is ready for another Paris soundscape? If you missed the last one, please click here.