In the lead up to mother's day when I had my homeware boutique (eons ago), I had a signwriter write on the window "mum's the word". Then, written on my cafe window which was on the next pararellel street, I had written "yum's the word". I thought that was really clever, even though no one seemed to notice.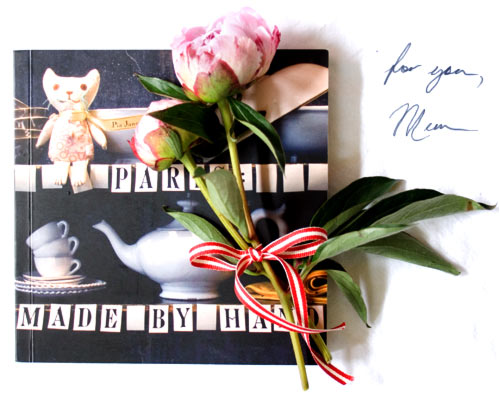 This year I say, how about a lovely book, a little bunch of peonies and yummy breakfast for your mum on sunday?
Kimberly from the gorgeous blog mimi charmante suggested to her readers that Paris: Made By Hand would make a great mother's day gift. And I thought, yeah what a great idea! So thank you dear Kimberly for suggesting this.
I now have a list as long as my arm of independent bookstores in various states in the US that I haven't yet been able to update on the book's webpage, so if you leave a comment on this post asking for your local stockists, I shall reply.
Happy Mother's Day to all the wonderful moms out there, that includes you mum!!
xx
PS I received an awesome email this morning from my dear friend michi, in Sydney, who had ordered my book as soon as she found out it was available. The email said "… your book arrived!!" and there was a photo of her holding it, with a huge smile on her face. I was totally chuffed.