WordPress database error: [Disk full (/var/tmp/#sql_2d71_0); waiting for someone to free some space...]
SHOW FULL COLUMNS FROM `Le`
WordPress database error: [Disk full (/var/tmp/#sql_2d71_0); waiting for someone to free some space...]
SHOW FULL COLUMNS FROM `Le`

While the rain falls all around me, and the Rijks Museum bells chime, I just caught the last bit of natural light to show you what arrived on my door step last Friday…

Yes, it's my Autumn swap surprise package of goodies! Can you guess who it was from? It was none other than the organiser herself, Sofia – that über talented gal who I just featured below in my etsy favourites. Sofia's autumn package is fabulous, so so many treats I didn't even know where to begin when I opened it up. Well that's not true, I did know where to begin, and as the above photo shows you, the things I started with are not present and are all but gone…into my belly.
Sofia's package is filled with delightful things like chocolate (gone), organic cookies (gone), mère poulard buttery biscuits (French Boy's eyes lit up when he saw the package and he ever so politely asked "Can I please have one?" Who would I be to deny him of such a delicious treat born from his own territory!) (gone), lollies (gone).
Amongst the victual delights were also the following… l'Occitane hand cream and body bar, 2 gorgeous cooking books that I can't wait to start trying out recipes, some Japanese Green Tea from Le Palais Des Thès, a beautiful notebook from la marelle en papier, postcards of Manon Gignoux, and… drum roll please…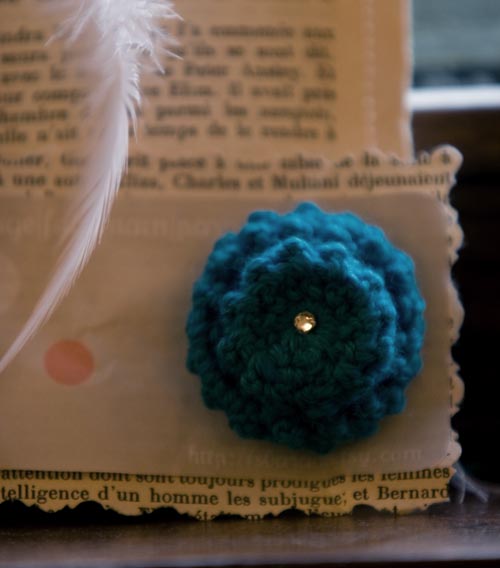 …one of Sofia's very own handmade brooches , wrapped in a little handstitched paper envelope. I am going to pin it onto my coat tout de suite. Thank you Sofia, for not only these wonderful delights but also for thinking up the idea of an autumn swap and organising it. This time of year for me is hard to swallow – the dark, rainy, cold days which are just normal for some, are not so easy for me having being born in the sun. So I absolutely loved participating – getting to know new bloggers through it, and exchanging gifts and sending them to strangers all over the world. It totally brightened up my autumn days, let's do it again next year!!
xx
PS I think this will be a bit of a 'show + tell' week – I still want to show you the things I bought at the brocante in France (I know, I promised! I haven't forgotten!), and I have lots of new things in the boat, perhaps I should do a little tour around it and show you my new treasures, what do you think? I also want to show you some things around the web that have caught my eye. Right now I'm going to play some piano. Catch you tomorrow, have a lovely day/evening!