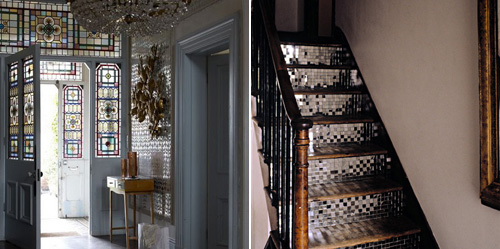 A little morning wander through the blogosphere found me these two images above from this is glamourous and coco + kelly. You know I am not a great fan of opulent rooms and 'rich' interiors – my style is more along the earthy, real and livable kind – creating rooms that are actually usable and cosy (you should hear me balk at mtv cribs – it's apparently humorous to watch me watching this show, I just can't believe people pretend to live in those places and try to get us, the viewers, to aspire to their pretend lives. nu-uh).
But it's not like I don't like shiny things. Because I do – especially like this entrance way and these stairs – I love combining old wood with sparkling things, I find it really brings out the texture and age, and sentimentality of the surroundings.
And that foyer is just cool. I have never been a huge fan of stained glass or shiny wall surfaces (my oma loved opulence – she mirrored her entire hallway and loved a chandelier or ten – and although it did have a 'wow' effect, it was more the sort of 'wow, i suddenly feel a little sick' effect.) But this entrance way makes me think that maybe one day, I could live with stained glass and reflective walls. Maybe.