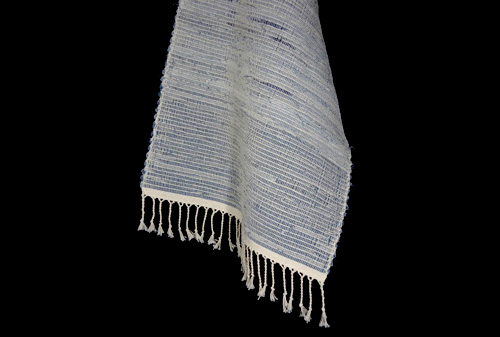 So where was I… oh yes, my obsession with the work of weavers! Another weaving studio which I am smitten with is that of Kelly Stewart and Kenny Nix – the lovely couple who have created the Gene Straus Design Weaving Studio. They have an extensive online gallery and I have been perusing it over the past few weeks, imagining them looming away, coming up with new ideas and fashioning loose threads into woven treasures. There is such a personal touch to their website – writing about how each piece was formed and what it was formed from – you see, Kelly and Kenny create rugs from tossed away clothing and scrap wool selvages. There is so much work to strip the fabrics into usable threads, let alone the amount of time and energy into creating the designs and starting the production, making each of their handwoven rugs unique yet so affordable.
What you see above has been made from old denim jeans which I think is just amazing. I imagine this rug on white wooden floorboards at an entrance way. In fact, I imagine alot of their designs in white spaces, creating warmth, depth and texture. Weaving old into new – I love it.
Click here to peruse their collection.