image from the Underwood Photo Archives
I have a rather special announcement to make!
If you've wandered the rooms of the (blog)house you may have noticed that one room seems, well, a little empty, be that my Artist Studio (apologies for the funny language, I'm currently reading Robinson Crusoe be that written by such one Daniel Defoe who writes in the tongue of the 17th century man, viz. almost unreadable English).
So although the Artist Studio has been a little vacant, it is only because I have been busy writing and planning my next art project and I am very pleased to reveal that it will be collective and it involves ALL OF YOU. So now, I invite you to come for a little wander with me as I pour my heart out and tell all…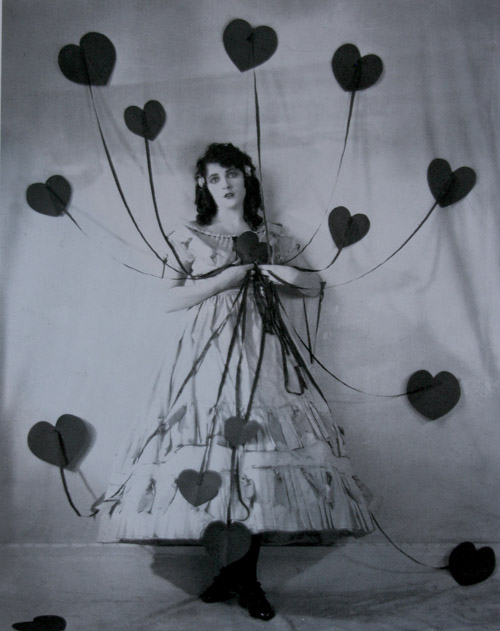 Image by Clarence S. Bull c. 1925, from the Underwood Photo Archives
Some 10 years ago, I made a pact to myself that I would create an artwork each year. I allowed myself to work in any medium be it painting, sketching, shooting still or moving images, sewing, knitting, woodwork or sculpture. And that no matter how consuming my career became, I would endeavor to fulfill my little goal.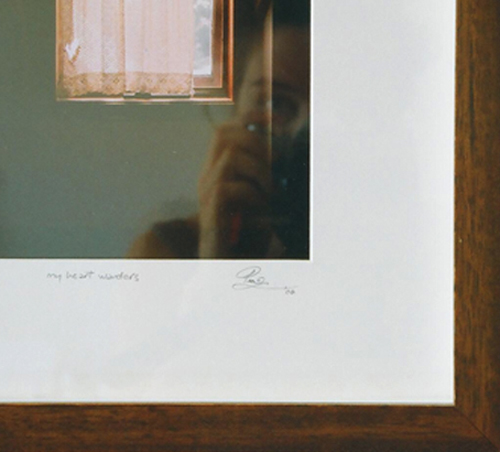 original photograph exhibited in the COFA alumni exhibition 2006
And then about a year ago something very peculiar happened.
My heart wandered.
It simply packed its suitcase and wandered away. I wrote it a letter in heart language but it never responded…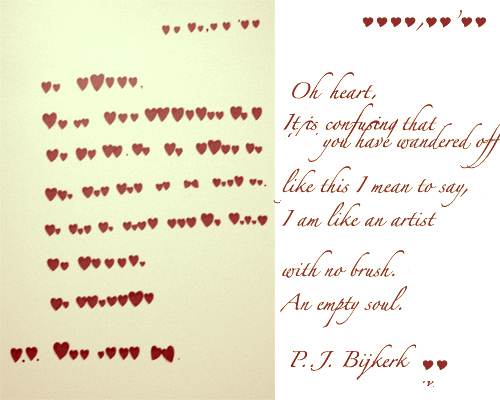 And what does one do when one's heart wanders? Follow. For a soul without a heart is to be no longer alive in my view. And as I went searching for my heart, I learnt that it actually knows what the future holds and it wandered for a very special reason.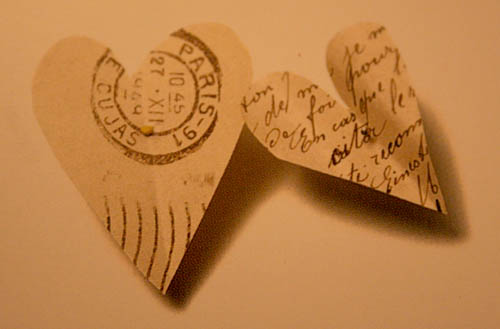 And so as I travelled in search of my heart, I caught glimpses of it everywhere – little signs of it in the streets, in the landscapes, in my work, on set, in the many homes that I visited.
And then I saw it amongst you.
The direction of my little wandering heart became apparent and it is my pleasure to now pull the red velvet curtains back and make welcome my first collective blog art project…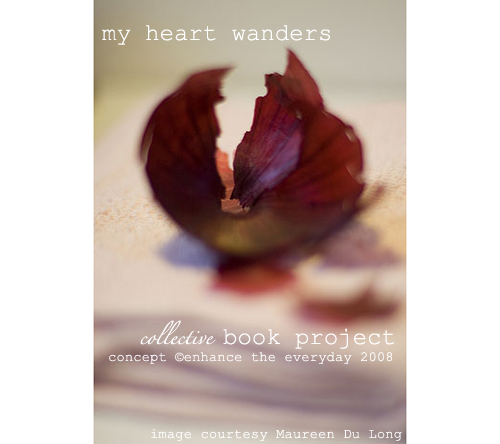 image from Maureen DuLong's flickr collection, click here for more.
my heart wanders: a collection of subtle hearts in special spaces will be a collective book project where ANYONE can enter a work. You do not have to be a professional photographer or artist, just have an eye for beauty (and a heart too!). While I've been roaming the blogosphere and meeting my blogging neighbours, I've noticed some great unearthed talent out there amongst you, and I would like to think this project might inspire you to try your hand at producing something for this collective project. With the ultimate goal to publish a beautiful hand held book, the concept is based on our favourite things: design, interiors, nature, love, lifestyle and beauty. It will be a collection of subtle hearts from all over the world.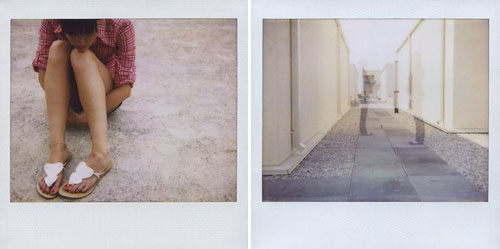 Maple Syrup Only found on Maditi Likes.

can't remember who the image on the left belongs to, i will try to find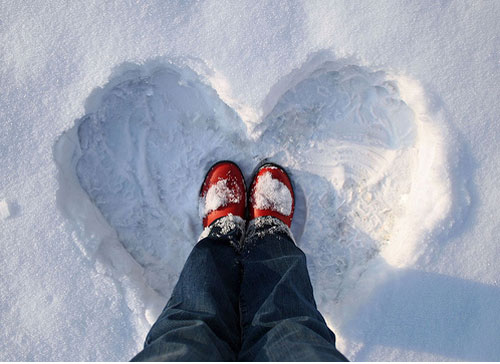 heaps of heart inspiration at janoid's flickr page, click here.

So what can you enter? Here are the criteria:
It needs to include a heart shape of sorts
It needs to be handmade or 'found' by you
It needs to mean something to you, or displayed in a space that means something to you, that has your heart in some way.
It needs to be photographed in a space – so if it is an object that you have made, it needs to be photographed in an interesting space – not necessarily a plush-deluxe room, but just a space (it can be inside or outside, but preferrably inside)
It needs to be subtle, not loud and overbearing – but inviting and gentle. Remember the 'where's wally?' books? Well think of that as a guidance. Imagine looking at an image and trying to find where the heart is in it.
The image needs to be a certain size and quality to be able to be published – I will write up the dimensions needed in coming posts.
Some ideas:
I won't go into too much detail here but just enough to get you thinking about your own direction…
You could make a little pillow out of some of your dad's old shirts and place it in a bedroom setting.
You might love music and have a crappy old retro radio – you could cut a heart shape into the speaker and 'place' it in an interior setting.
A little heart shape cut out of your favourite fabric and stuck on your favourite wall of your home.
An example of a perfectly befitting image for the book from Maria Stijger, can you see the heart?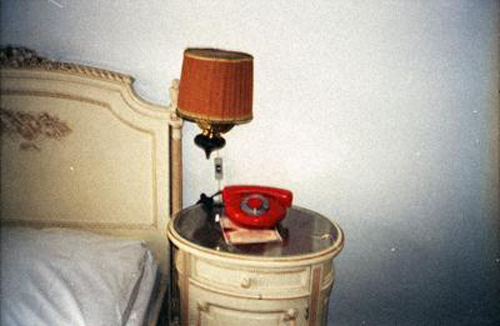 Some tips:
If you are a crafty person but feel you are no good at photography then ask a friend who is good at photography and ask them to help you to best display your piece. The image is very important as the final picks will be chosen from the quality of the image that best showcases your work.
Use my moodboard (it will stay posted in the Artist Studio) to inspire you with the colour preferences – images will be chosen and edited with these colour preferences in mind. The look will be neutrals with splashes of colour, but if you feel you just want to send something in anyway that doesnt fit the colour preference do so – I will consider it on its ability to fit into the project as a collection and it just may fit perfectly. And you can give me permission to play with the colours in post-production or if you want the image to remain true to your original then state so.
Use your strengths – if you have a passion for drawing then draw, if you fancy yourself a painter then paint, if you cook then cook, if you love woodworking, then woodwork!
Think of your heart as a 'happy accident' and work with that in mind.
Use inspiration from this post – I have included links to some great flickr collections and photographers that are very inspiring.
Multiple submissions are accepted, as well as multiple images as the best of the best will be chosen. Close-up images of your piece will also be accepted if it is with an image of the object in a setting. Series are also accepted, as is text.
Put your heart into the work. Sloppiness or laziness, or simply just entering something to get your name in the collection is easily recognised by myself and my team, and most likely will not be chosen.
I will endeavor to offer advice and guidance when I can to individuals through posts and comments.
So if you bake, get baking!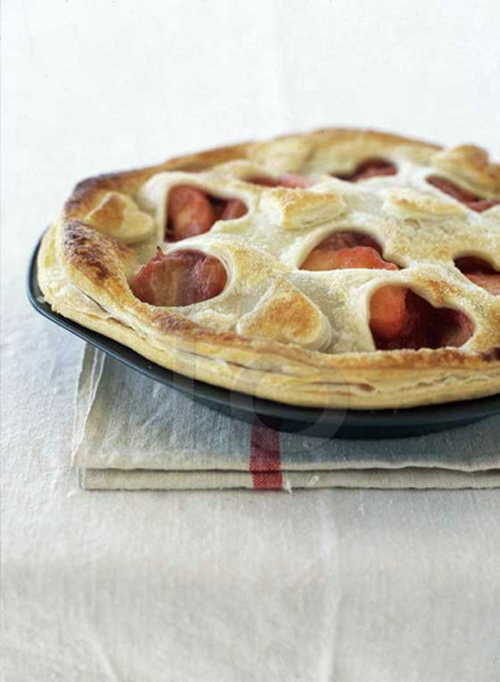 photographed by Petrina Tinslay, courtesy of the F8 photo Library.
If you love taking pictures, take pictures! In time you will begin to see heart shapes in the most peculiar yet magnificent of spaces…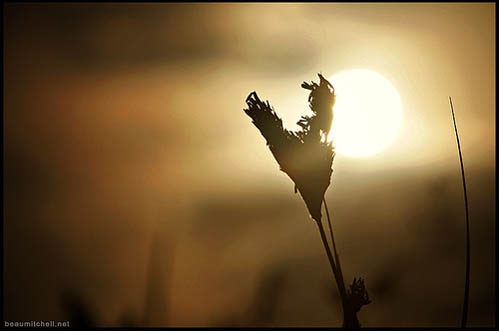 image by beau mitchell.
see the simple things and happy heart accidents around your own home…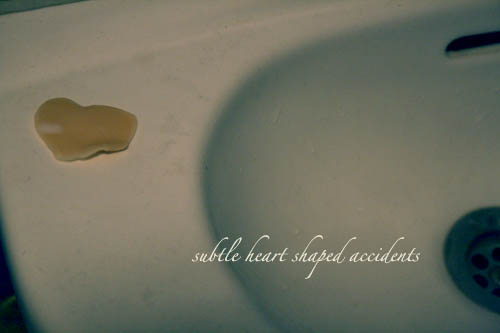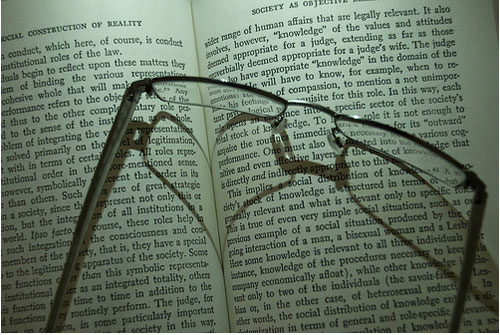 image by Mehran Heidarzadeh.
be patient and thoughtful and your ideas will start to flow…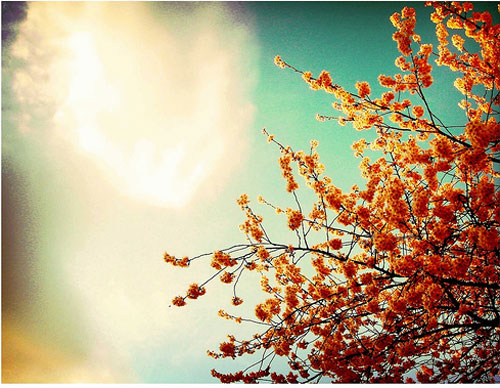 Image by Lejson.
Final Notes:
Not all work will be able to be in the final compilation, but all work submitted that is of a high standard I will display in posts and you will always be linked back. The final compilation will be submitted for publication once the selection is complete. There will be a good notification of deadline dates in posts. Entries are open to ALL, with or without blogs but people with ease to internet access and good contact details for purchases will be preferred so that readers will be able to buy your work. All photographs will be credited accordingly and a reference guide will be included at the end of the book so that all readers can contact you, your shop, or company. The purpose of this collective is to showcase creative individuals to a worldwide audience, to promote handmade and the reuse of materials, to promote and to bring awareness to sustainable growth. This is a not-for-profit project. Any profit generated directly from funds of the book will go to the curator's chosen foundation for promoting basic human rights. Details of this will be posted about in the lead up to publication.
And the more who know about this project the better it will be, so please post about this project and send to your friends, family, colleagues, and whoever! This is a collective project which means it is about sharing and giving, it will shine with each of our input.
Thanks everyone, I am so hoping you will participate, it is going to be alot of fun and I'm more than excited to be creating something that involves all of you. Happy hearting!